Ksar el Khorbat Museum is located in the south of the Atlas Mountains. Originally built in the 17th century as a fortress to protect the surrounding area from invaders. Over time, it became a center of trade and commerce and was eventually transformed into a kasbah museum.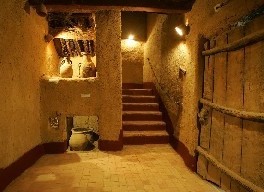 Today, the Kasbah Museum is a fascinating place to visit, filled with artifacts and exhibits that tell the story of the people who lived there. You'll have the chance to see everything from traditional Berber clothing and jewelry to weapons and tools used by the local tribes.
In addition to the museum, the restaurant offers traditional camel meat dishes as delicious as it is authentic.
A visit to Ksar el Khorbat Kasbah Museum is a truly unique and unforgettable experience. Its fascinating history, stunning architecture, and rich cultural heritage will leave a lasting impression on anyone who visits. S