SaharaTrek offers a wide range of tours and activities to help you explore the best of this beautiful country. We understand that your accommodation is an important part of your trip, and we only partner with the best riads and hotels in Morocco.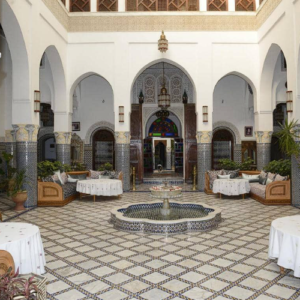 A riad is a traditional Moroccan house or palace with an interior garden or courtyard. Riads are typically located in the medina, or old city, of Moroccan cities. They are known for their beautiful architecture, intricate zellige tilework, and relaxing atmosphere. Riads offer a unique and authentic Moroccan experience.
In addition, many of our riads offer an optional luxury hammam (spa) experience because they know that their guests will appreciate the benefits of this traditional Moroccan experience. Hammams are a great way to relax and rejuvenate after a long day of sightseeing or exploring. They are also a great way to connect with Moroccan culture and tradition.