Are you ready to embark on an unforgettable journey through the vibrant cities of Morocco? All SaharaTrek tours include guided walking tours of Morocco's most famous and historical cities, so you experience the country like never before. Immerse yourself in Morocco's rich culture, history, and beauty as you explore its bustling streets, hidden gems, and iconic landmarks on foot.
Our walking tours give you the unique opportunity to truly connect with the local communities, interact with friendly locals, and witness their daily way of life up close. Feel the city's rhythm as you stroll through the colorful markets, savor the tantalizing aromas while sampling traditional cuisine, and marvel at the stunning architecture that tells the story of centuries past.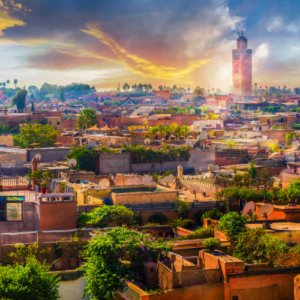 Unlike other ways of seeing the cities, walking allows you to discover the hidden corners and narrow alleyways inaccessible to larger vehicles. You'll stumble upon charming riads, tranquil gardens, and secret courtyards that hold the secrets of Morocco's enchanting past.
Our expert guides will lead you through the labyrinthine medinas, sharing fascinating stories and historical insights along the way. They'll take you off the beaten path, introducing you to local artisans, craftsmen, and storytellers who will enrich your understanding of Moroccan culture.
The best part? You'll have the freedom to pause, take photos, and explore each city at your own pace while you soak in the ambiance. You'll get all the sights and sounds without feeling rushed or overwhelmed. And with a knowledgeable guide by your side, you'll have a safe and enjoyable experience that you won't soon forget.
Walking also provides a more sustainable and eco-friendly way to explore the cities, reducing your carbon footprint while immersing yourself in the authentic atmosphere of Morocco.
So, if you're seeking an immersive adventure that goes beyond the surface, lace-up your walking shoes and discover the heart and soul of this captivating country, one step at a time.